Release Notes 18.2
Here is a quick summary of the changes/new features included in the latest release of the Maddocks UK Tradesite.
Substitute Items Version 2.0

This new version of the Substitute Items feature has been updated to make it even easier to identify a substitute part. If a specific part that you require is showing as "Temporarily Out of Stock", "Special Order Item" or "Discontinued", there may be a substitute item available.
What constitutes a substitute? A substitute is a direct, interchangeable replacement for a specific item.
The data that Maddocks provides for substitute items has been improved to highlight different types of substitute item.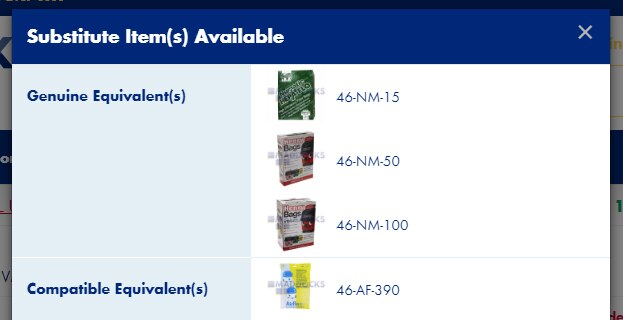 The types of substitute now available for stocked or special order items:
Compatible Equivalent

Genuine Equivalent

Universal Equivalent

Supercedes From
The types of substitute now available for discontinued items:
Supercedes To

Supercedes From
There is no limit to the number of substitutes for a specific item. An item could have a single substitute or there could be many substitutes under the different types mentioned above.
Customer Item Code

The Maddocks UK Tradesite now has the capability to display your own internal part numbers on a specific item to help cross reference the part against your own stock.
Your internal part numbers are private and can only be viewed with your trade account via the following:
Product Details Page

Quick View

Delivery Notes/Invoices
To find out more on how to assign your own internal part numbers against Maddocks products, please email sales@htmaddocks.co.uk where a Maddocks Sales Representative will be able to assist you further.
Marketing Sign Up
With GDPR now in force since 25th May 2018, Maddocks was required to make some adjustments to the new trade customer registration form and email preferences for existing customers.
For New Trade Customers
New Fields have been inserted into the new trade customer registration form to collect relevant data to be used for the customer's marketing preferences.

How best would you describe your business? Dropdown added to tailor marketing to specific customer types.

Opt-In checkbox if the you wish to receive marketing from Maddocks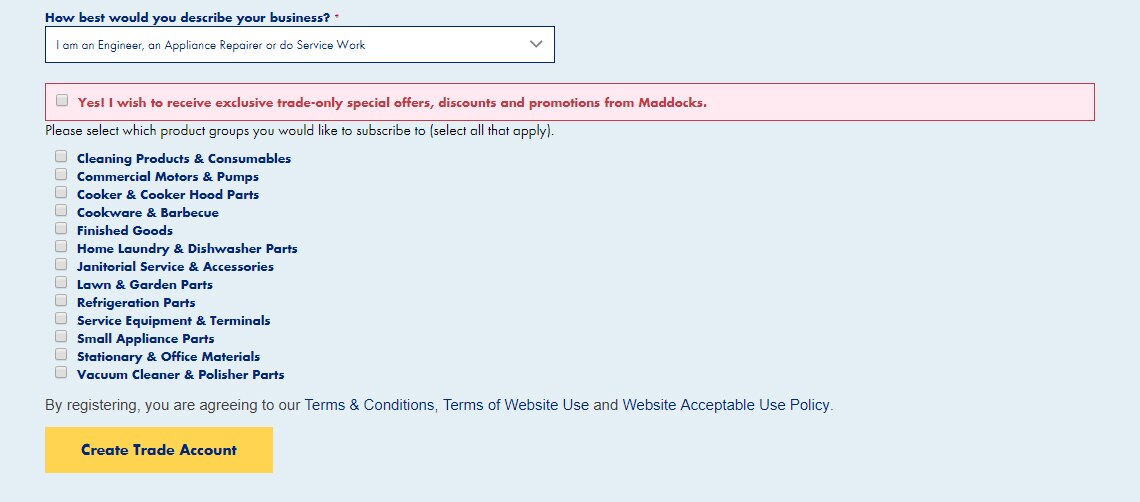 Checkbox list of the main categories of products is revealed if you wish to Opt-In to receive marketing for any/all that apply to you
For Existing Trade Customers
In order to continue receiving exclusive special offers, our monthly Smartparts brochure, new stock line announcements and clearance line updates from Maddocks simply log in to update your marketing preferences.